Turnaround Time: 2-6 weeks
Regular price
Sale price
$29.00 USD
Unit price
per
Sale
Sold out
Ocean blue and sandy tan variegated with deep navy and tan speckles. 

Read more

All yarn has been dyed with professional acid dyes and washed and rinsed afterwards. However, some bleeding with the first wash may still occur.

The yarn has been photographed in natural light in order to give the best representation of the color, but please be aware that screens can differ slightly. I cannot guarantee that what you see on your display with match exactly with what you see in person.
Yarn Base Information

Suri Silk Lace - single ply
74% Baby Alpaca Suri, 26% Mulberry Silk
328 yards/50 grams

Baby Yak Lace - Single ply
41% Baby Alpaca, 13% 18.5 Micron Merino, 10% Yak, 35% Silk 
437 yards/50 grams

Super Soft Sock Mini - 3 ply
75% 19.5 Micron Superwash Merino, 25% Nylon
92 yards / 20 grams
 
Super Soft Sock - 3 ply
75% 19.5 Micron Superwash Merino, 25% Nylon
463 yards/100 grams 

BFL Twist Sock Mini- 2 ply
80% SW BFL, 20% Nylon
80 yards/20 grams

BFL Twist Sock - 2 ply
80% SW BFL, 20% Nylon
400 yards/100 grams

BFL Tweed Sock - 2 ply
85% SW BFL, 15% Donegal Neps
438 yards/100 grams

Classic DK - 4 ply
100% SW Merino
231 yards/100 grams

Super Soft DK - 3 ply
100% 19.5 Micron SW Merino
246 yards/100 grams
 
Merino Tweed DK - 4 ply
85% SW Merino, 15% Donegal Neps
231 yards/100 grams

Cozy Worsted - 2 ply
80% SW Merino, 20% Baby Alpaca
191 yards/100 grams  

2-Ply Bulky 
100% Superwash Merino
109 yards/ 100 grams

Teddy Bear Boucle - Single ply
70% Highland Wool, 30% Superfine Alpaca
87 yards/100 grams
Share
View full details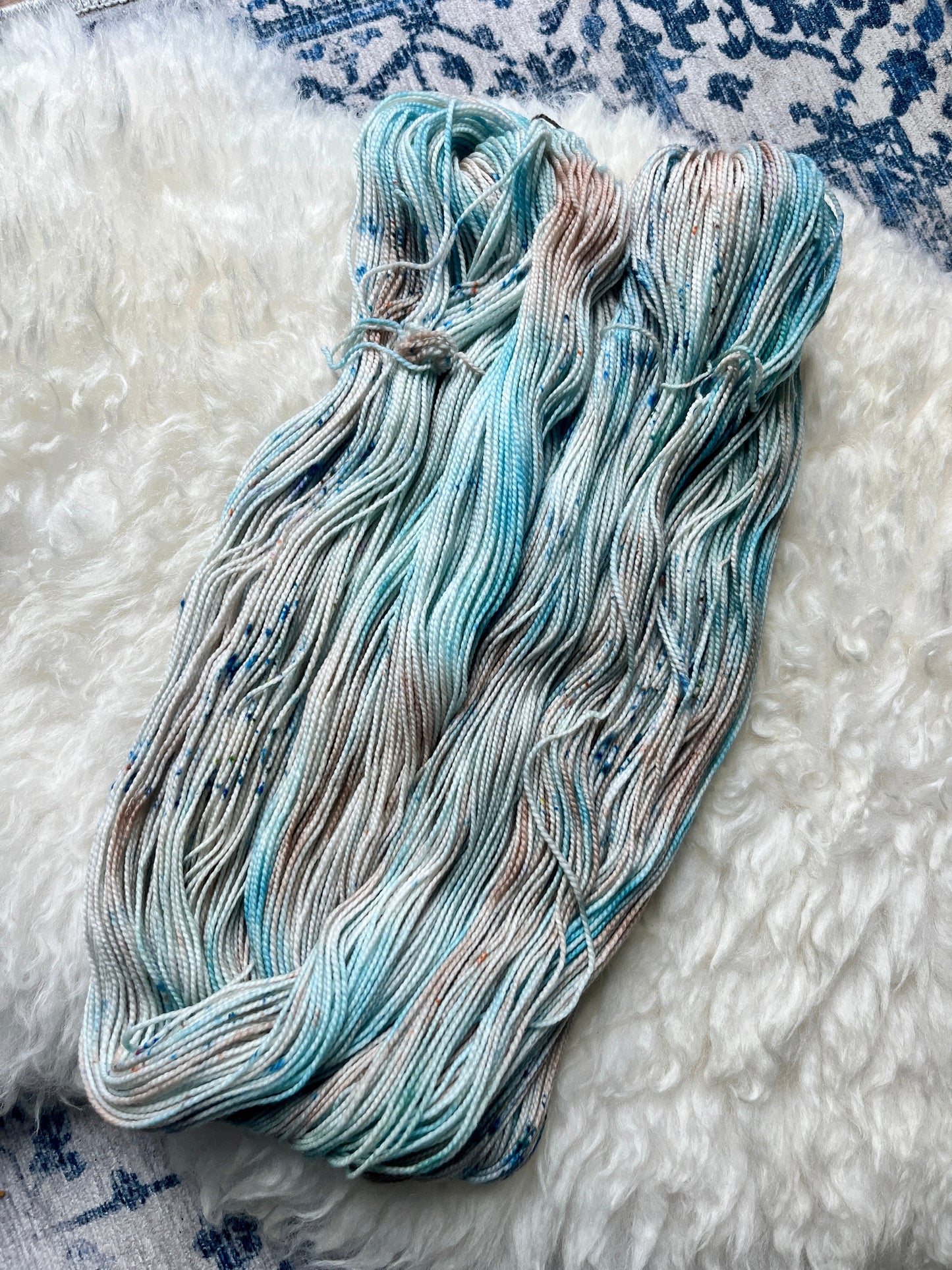 }}